Historical Excursions Chalkidiki
Stagira and Aristotle's statue
The philosopher Aristotle was born in ancient Stagira. Stagira is the center of a large mining region that since 500 BC to the present day has given wealth and power to emperors, kings, sultans and companies. Mahalas from the sultans' Mademohoria was the basis of the only free Commonwealth of 12 large villages and over 100 settlements. Important Byzantine buildings are saved in Stagira, as well as the castle of Madem Emin, master of the sultan in the area. The castle has a dominant presence in the forests of the Stratonic Mount and in the impressive Strymonic gulf and the gulf of Ierissos.

Kallithea
Kallithea is an attraction for thousands of visitors not only because of its wonderful beaches but also because of the important archeological finds that have come to light after archeological research was made on the village's beach. Some of these archeological discoveries are the Temple of Zeus Ammon (a sanctuary of Dorian order that was constructed in the 4th century BC), as well as some architectural parts belonging to an Old Christian basilica. There is also the small more recent chapel of Agios Panteleimon, which exhibits many interesting murals.

Olynthos
Olynthos is a flat region located in South Chalkidiki and it is 24km away from Poligiros. It constitutes the Historical Capital of the Municipality of Poligiros. According to tradition the city was founded and named after Olynthos, son of the river God Strimonas, while Herodotus mentions that was conquered by Vottieous from Imathia during the 7th century BC, when after their persecution by the Macedonians came to Chalkidiki and settled at the Southern hill. The view of the area is of outstanding beauty. You can visit the archeological site along with the Byzantine monuments.

IMPORTANT MUSEUMS IN CHALKIDIKI

• Folklore Museum at Athitos
• History & Folklore Museum at Arnaia
• Folklore Museum at Poligiros
• Archaeological Museum at Olynthos
• Christian Halkidiki Exhibition at Ouranoupoli
• Anthropological Museum at Petralona
• Archaeological Museum at Petralona
• Folklore Collection at Vavdos
Book Online
or Call +30 23740 51794
---
DON'T MISS
Mount "Athos"
T
he only place in Greece, which is totally devoted to praying and worshiping God and thus, it is called the Holy Mountain
.
Stagira and Aristotle's statue, where the great philosopher was born
.

Olynthos, the
archeological area with the Byzantine monuments
.
---
Why Chalkidiki
Lush landscapes and crystalline areas

• Shaped like Poseidon's trident, the three peninsulas suspend into the Aegean Sea

• Kassandra peninsula is famous for its white sandy beaches
•
R
ich tradition, natural beauty, history and strong cultural identity
• Stagira and Aristotle's statue with famous Byzantine buildings
---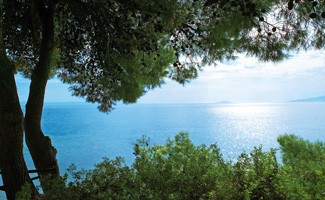 Magnificent beaches
A combination of the green pine trees that embrace harmoniously the crystal clear sea
---
Join us at our festivities and events in and around the hotel

Discounts for 2015 available NOW!

See our awards and recognitions